Augmented Reality (AR) is a technology that improves the customer experience and the internal efficiency of enterprises. Thanks to the impact it generates and how it benefits the value chain of companies and their products, it has become one of the most demanded technologies in recent years.
AR allows to combine digital content with real elements of the physical world in real time, allowing users to interact with digital content as if it were part of the real world. But we have already told you about this in this other post.
AR has great potential in the business world, as it can improve the way customers and employees interact and increase efficiency from an operational perspective, and unlike other technologies it is able to represent different types of content (images, videos, 3D objects, etc.), without losing the perception of the real world.
Now we present some practical applications of AR so you can understand how augmented reality could help improve the customer experience and internal efficiency of your enterprise.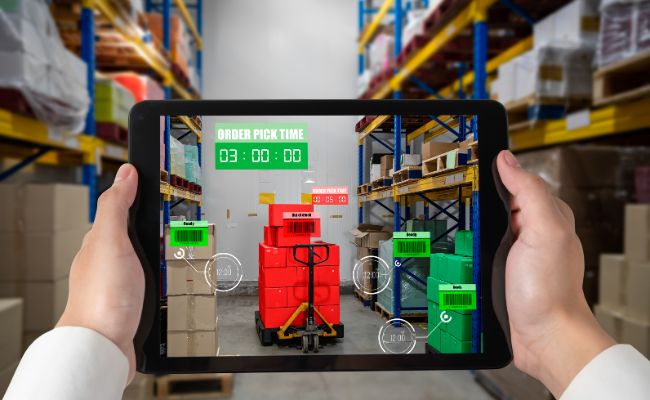 Creating unique customer experiences with Augmented Reality
Augmented Reality (AR) is especially effective in creating unique customer experiences. By allowing customers to interact with products and services in a different and surprising way, companies can increase customer satisfaction. It also improves customer loyalty and thus increases repeat sales.
How is this possible? Through augmented reality, the individual experience of each customer is personalized and they are made to feel unique, generating in each of them an emotional bond with the brand that lasts over time.
Here are some examples of how companies have used AR to create unique and interactive experiences for customers:
A fashion retailer using an AR app to allow customers to 'try on' clothes virtually before buying, increasing customer satisfaction and reducing the number of returns.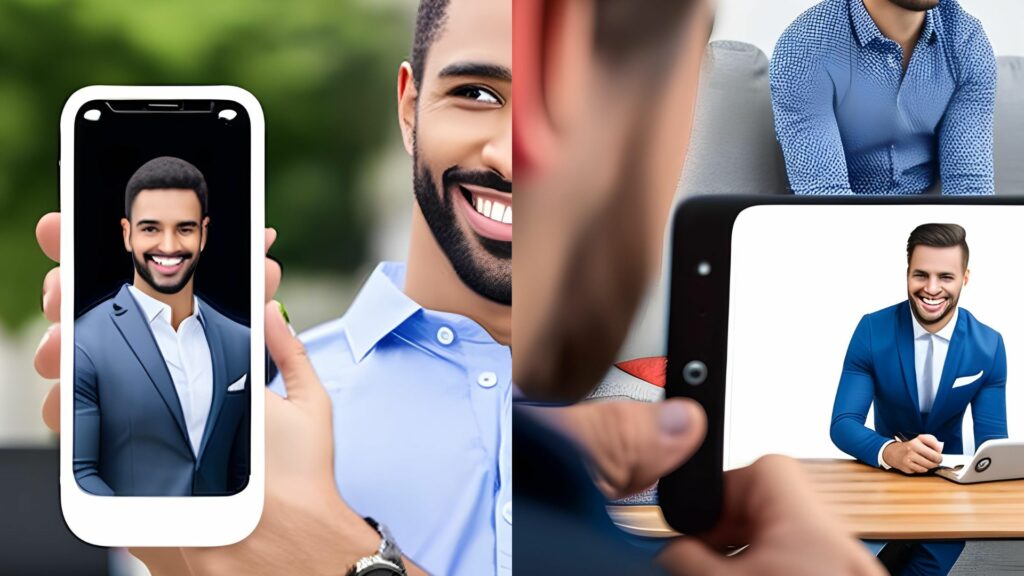 Cosmetics company L'Oréal has been using Augmented Reality for years to allow customers to try different shades of makeup virtually. They started by creating an AR app that uses the phone's camera to detect the user's skin tone, so that it is then possible to apply different shades of virtual makeup. This has led to an increase in customer engagement and online sales.
L'Oreal Brow Magic
Such is the success, that they have continued to use AR to generate unique user experiences, such as the one offered by L'Oreal Brow Magic. Through this application, the user sees their face scanned with the Modiface eyebrow reader, then selects the desired shape, applies the pre-base on the eyebrows, and gets a customized eyebrow look in just a few seconds. It should be noted that this application has been recognized with the CES 2023 innovation award.
Volkswagen Virtual Studio now uses Augmented Reality
Volkswagen has used its augmented reality tool, 'Virtual Studio', to allow customers to view a customized, 3D version of its vehicles. Users can customize and configure the car with different options, such as paint colors, wheels and accessories. Volkswagen has seen an increase in customer engagement and customer satisfaction thanks to Virtual Studio.
Increased Efficiency in Operations and Workflows with Augmented Reality
Another way augmented reality (AR) can help companies is by increasing efficiency at the operational level. By using augmented reality to improve work processes and communication between employees, companies can reduce errors, increase efficiency and reduce operational costs.
Here are some examples of how companies have used augmented reality to improve efficiency in their internal processes:
DHL Supply Chain and augmented reality
Gradually, DHL Supply Chain has managed to apply the use of augmented reality to the picking processes in its warehouses and logistics centers in most of the countries where it is located.
It uses AR glasses to improve accuracy and speed in picking and packing products in the warehouse, which reduces errors and increases efficiency.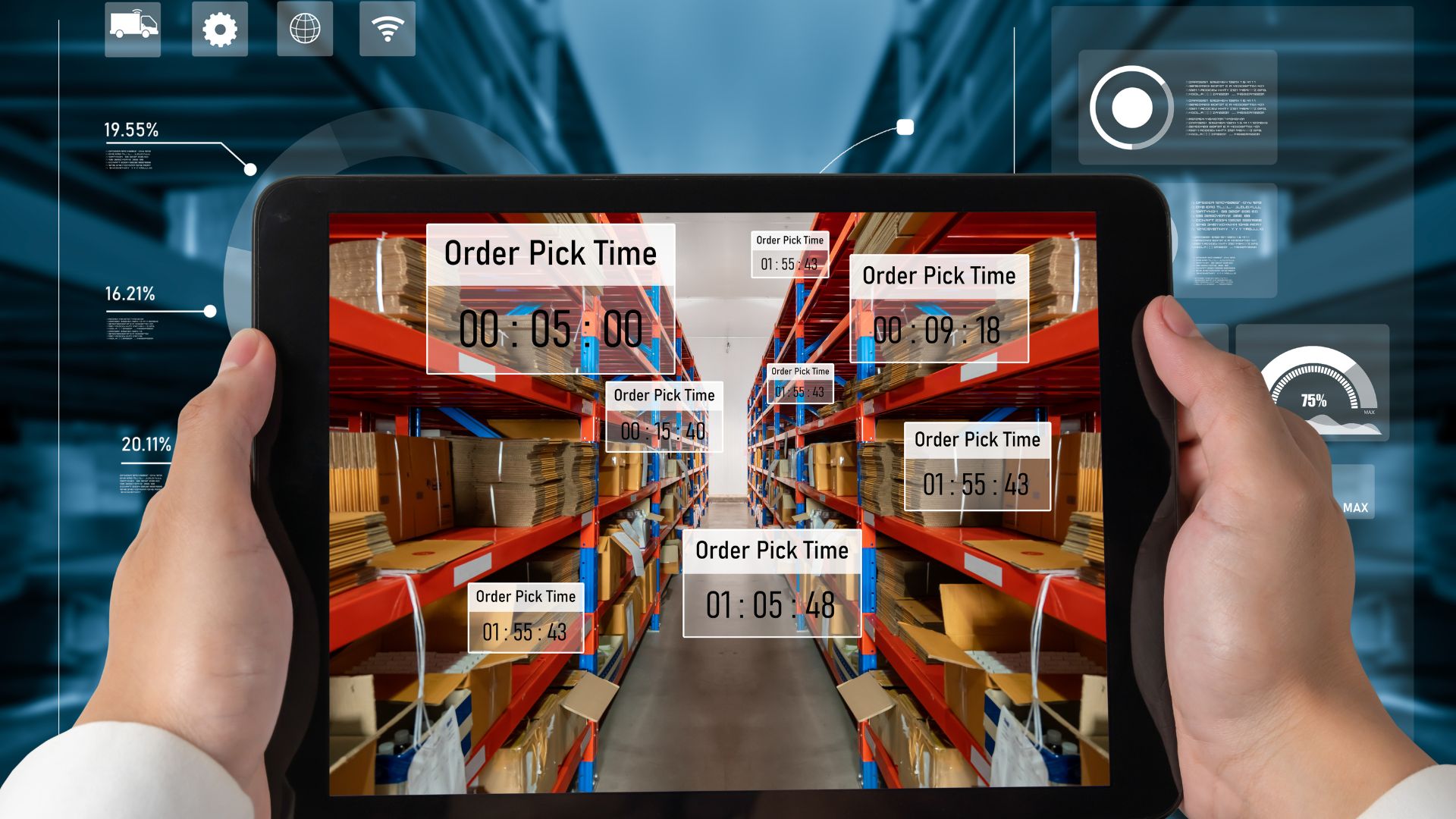 Telefónica Tech already applies augmented reality
It has been in Spain where Telefónica Tech has implemented a new remote operation service with augmented reality (AR) through smart devices (glasses, phones or tablets). The objective is to enable an optimal remote connection with technical experts who provide assistance in real time.
In this way, the expert is able to see what the technician sees in real time through a live video call. Thus, the expert is able to provide the appropriate instructions to solve the problem by showing visual indications to the technician thanks to augmented reality.
This remote operation makes the inspection and maintenance processes more efficient since the expert sends the information in real time avoiding interruptions, being more accurate by avoiding possible manual errors.
The use of this technology speeds up manufacturing processes by up to 25% and reduces errors by up to 50%. This reduces downtime and increases operational efficiency, reduces travel costs and carbon footprint.
Employee training through augmented reality
Augmented reality can also be useful for employee training and coaching, especially in industries such as manufacturing, construction or medicine. Workers can use AR to visualize, in 3D, products, components and processes. This allows them to become familiar with manufacturing details, construction techniques before performing actual tasks, receive instructions from an expert and gain time on the service performed by a technician through an expert, etc.
Healthcare telecare based on Augmented Reality with 5G
Furious Koalas has carried out the development of the Augmented Reality application for real-time support of mobile emergency units.
This application makes sense in situations where people in an emergency medical unit need real-time support from other medical specialists, who are physically located in a fixed base, such as a hospital.
This support is materialized through the use of augmented reality, the design of an audiovisual information communication system in real time and in open environments.
Augmented reality enables the integration, in real time, of 3D virtual objects on a real environment. Thus, augmented reality in this use case will allow people in the emergency medical unit to visualize virtual action protocols based on the indications and actions performed by the medical specialists remotely. The virtual actions or recommendations associated with these protocols will be integrated into the real world thanks to the use of augmented reality glasses.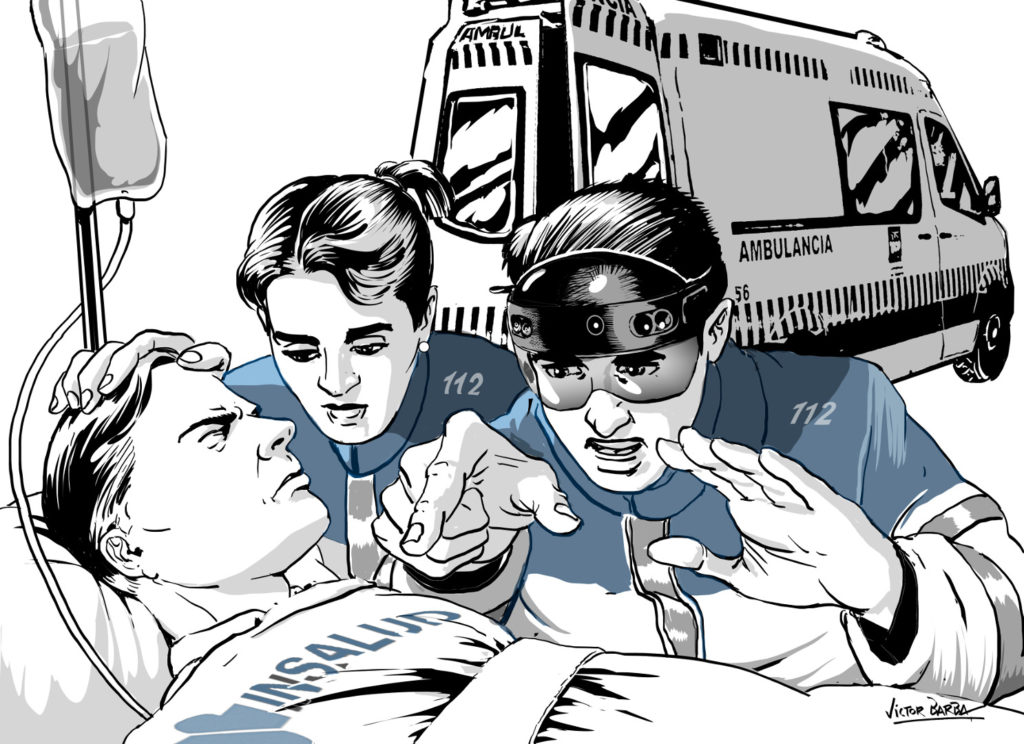 In this way, the user of the augmented reality system will be able to see, perfectly aligned on his perception of the real world, computer-generated virtual images that will help him to perform medical assistance tasks. These indications can be 3D objects, videos or texts.
In this way, the time of action by professionals is reduced, becoming key in situations of danger to the patient's health.
Iberdrola and augmented reality
Iberdrola, the Spanish energy company, has been investing in digitalization for years and uses augmented reality (AR) for the training of its technicians in various fields, including the training of its workers. The company uses the technology to train its workers in the operation and maintenance of renewable energy plants.
AR allows workers to visualize plant operation in real time and detect problems in real time, which improves problem-solving efficiency. In addition, the technology allows workers to view detailed information about plant equipment and systems, improving their understanding and ability to perform maintenance.
Iberdrola also uses AR in training workers in solar panel installation. The technology allows workers to visualize in real time the optimal location and orientation of solar panels, which improves installation efficiency and plant performance.
Another of Iberdrola's applications of AR is in training workers in plant safety.
In summary, Augmented Reality is a very valuable tool for companies that can apply the use of this technology in multiple ways with great advantages in the production cycle, opening new possibilities in training and prevention of occupational hazards and increasing sales with an interactive and unique marketing strategy.
If you would like to implement augmented reality in your company to improve the experience of your customers or the internal efficiency of your processes we can help you. Contact us and we will schedule a consultancy about your company, we will help you reach the next level of digitization.