If you are looking for an exciting and memorable way to strengthen the relationships of your team this Christmas at a convention for a multinational or big company, Furious Koalas has the perfect solution for you. We offer an innovative approach to your team building that involves technology, gamification and the recreation of the most popular quizzes and games. In this article, you will be able to understand what the team building we propose for Christmas consists of and we will explain how our team works to ensure that your event is unforgettable.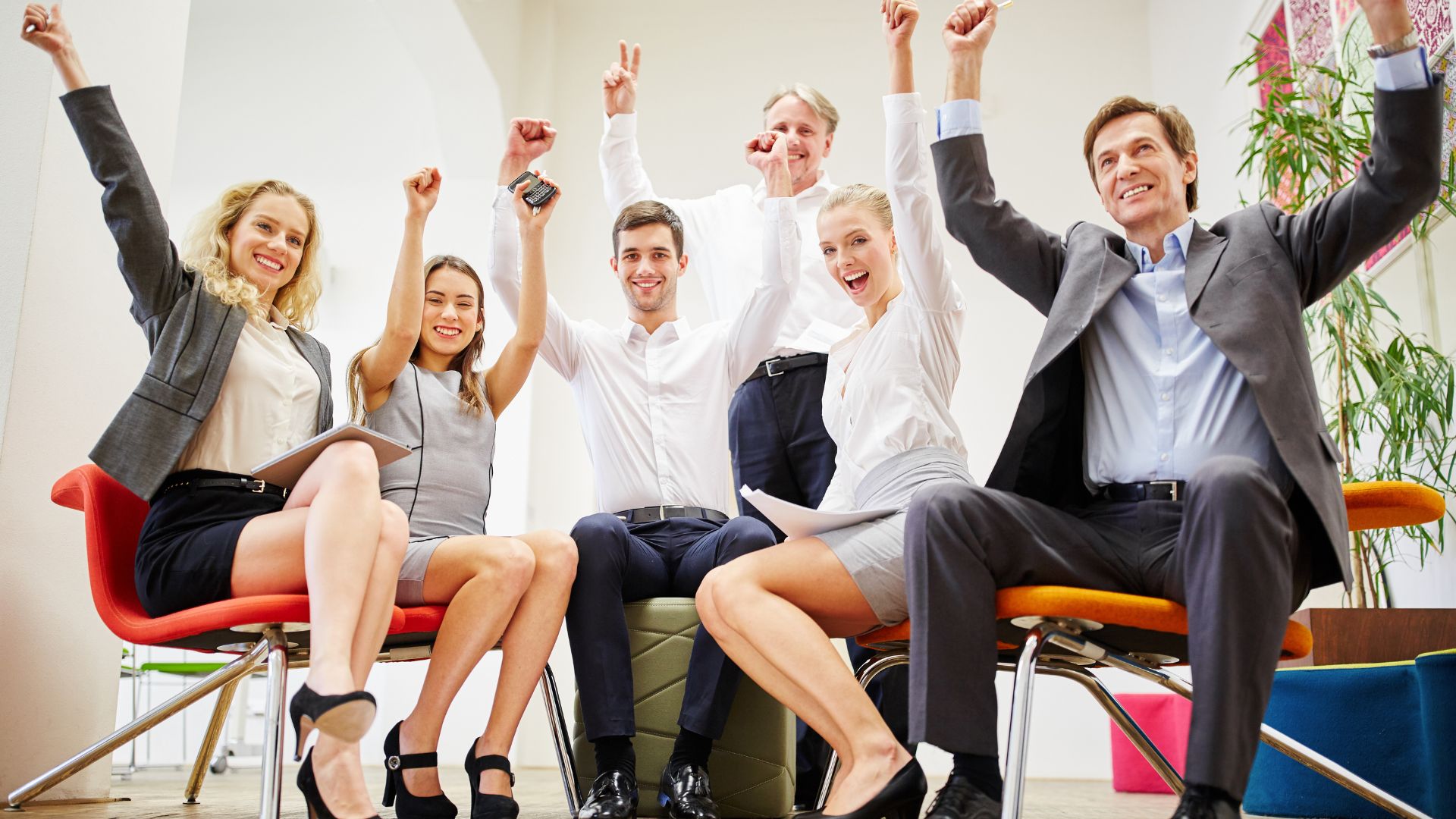 Team Building with Furious Koalas: An Unique Experience
At Furious Koalas, we understand the importance of creating strong connections between your team members, especially at festive times such as Christmas or large-scale events. Our approach focuses on using technology and gamification to recreate the most exciting TV quiz shows and iconic board games in history, giving you a unique and fun team experience. Want to know how we do it?
Step 1: Know Your Needs and Expectations
Our process begins with a first contact. We want to get to know you, understand your needs, and listen to your expectations. We understand that every company and event is unique, so this stage is crucial to ensure that the solution we offer is right for you. We will discuss the key to team building success, the location and date of the event, as well as the approximate number of people attending.
Step 2: Creation of a Briefing and Customised Proposal
Once we know your needs, we will present a briefing and a customised proposal that aligns with your interests. At this stage, we will also address delivery times, the platforms to be used and the specific characteristics of your event.
Step 3: Design and Customisation
We pride ourselves on our ability to customise every detail of your team building experience. If the client wishes, we will work on the design of the stand, the lecterns and the overall image of the quiz or game. The game questions are fully customised for each client according to their objectives for this event, as well as the audiovisual resources we use.
Step 4: Development: Ensuring a Unique Experience
In the development phase, our talented developers integrate all assets to ensure a unique experience. This includes setting up a central logic, a properly structured database and a visual aesthetic that will impress your employees or attendees.
Step 5: Process and Continued Collaboration
Throughout the development process of the application, we maintain constant communication with you. We show you the evolution of the project and receive your feedback on relevant decisions. Although our services are customised for each client, we use prototypes that speed up the work and reduce delivery times.
Step 6: Installation and Preparation
The day before the event, our team is in charge of getting everything ready. From the set-up to the production of the contest, sounds, lights and control, we take care of every detail to make the event a success.
Dynamisation of Events at Trade Fairs and Congresses
In addition to our customised proposals for Christmas and conventions, we also offer event dynamisation for trade fairs and congresses with interactive games. If you are thinking of organising an event and you need an interactive solution, tell us about it, and we will customise the production to offer you the best solution. 
Team building 'Contest Premium': A quiz competition!
This team building is inspired by one of the most famous quiz shows on TV: 'Who wants to be a millionaire'. It is highly customisable with your company image and questions designed specifically for your employees. Whether you want the questions to be related to your company, its products, its history, or you simply want trivia type questions, we'll take care of it. Fun is guaranteed, and it will also serve as an effective way of learning for your employees.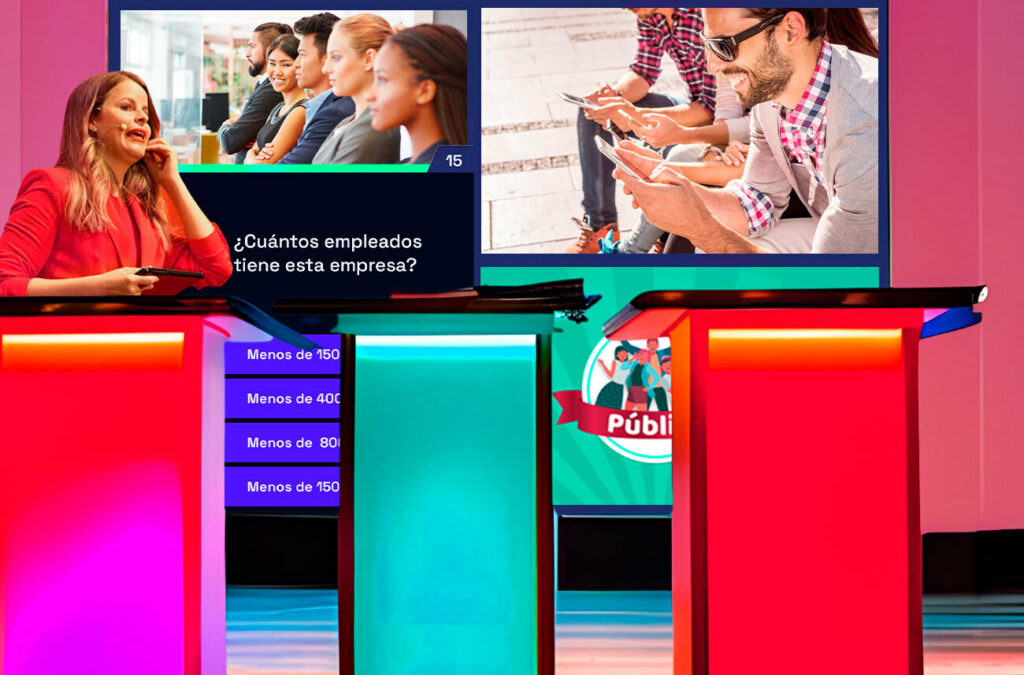 How does the 'Contest Premium' team building competition work?
The quiz is animated and guided by a presenter from our team, an expert in the format. Our team has different facilitators who know the dynamics of our team building perfectly and are ready to make you experience the contest in an unforgettable way.
At the start of the event, all attendees will receive a personalised QR code to access a web browser and participate without the need to download any application. This allows the identification of each participant and the automatic creation of a ranking with their scores.
The presenter will be on stage, with a microphone and an earpiece to be in constant communication with our team. He or she will also have a tablet as a guide during the event.
A large screen ensures that all questions, answers and rankings are visible to the audience. Images from the cameras recording the event and the participants will also be shown. We have two fixed cameras and one mobile camera, which will make you believe you are in a real TV quiz show.
The game production includes customised lecterns with programmable LED lights, push buttons and digital screens, as well as spotlights and sound – we even have a smoke machine! The aesthetics of the game show resemble the famous 'Who Wants to be a Millionaire'.
Development of the Team building competition 'Contest Premium'
The presenter starts the game with a quick round of 10 questions that must be answered in 20 seconds. Speed also scores points. During this round, a ranking of the best scores is displayed.
The best participants will form teams and face each other in the second round, which lasts approximately 30 minutes, by standing behind lecterns that are placed next to the presenter. During this stage, the public (the other participants with lower scores than the selected ones) continue to participate from their mobile devices.
The audience also participates in the ranking and is eligible for prizes. In addition, teams on stage can use wild cards such as the "Audience Wild Card" or the "Guru Wild Card" to get answers from the audience.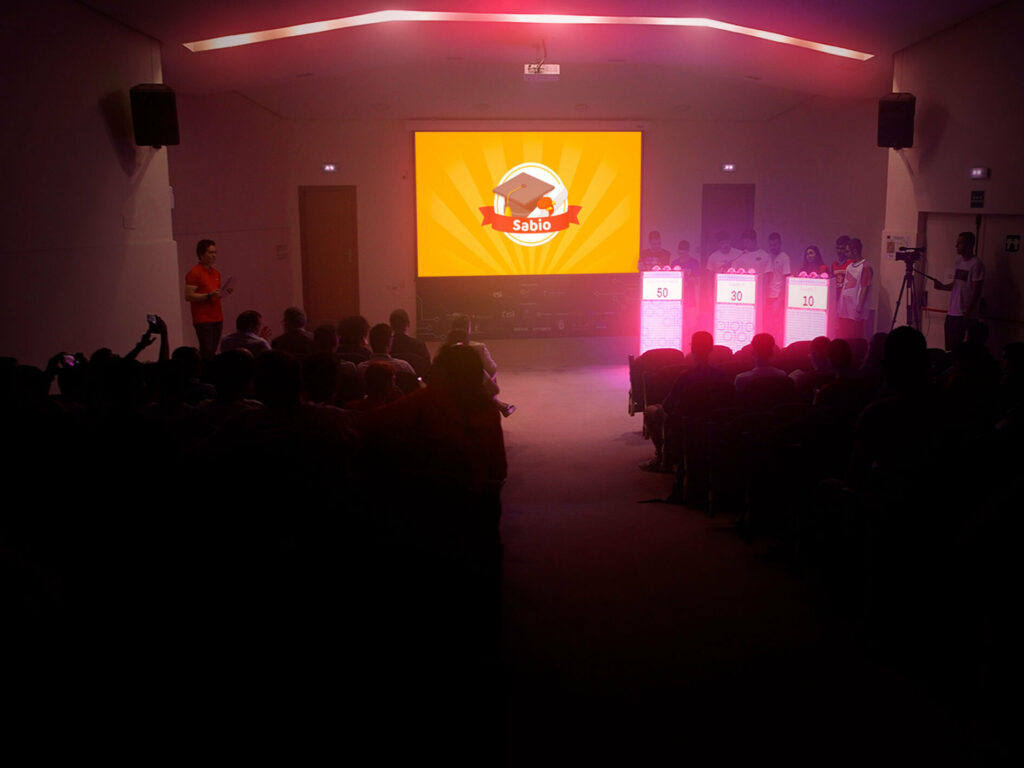 Questions can vary in concept, including hangman questions, multiple choice questions and questions with multimedia.
Teams compete against each other for the best score, and the audience remains involved throughout the game.
Team building 'Who's who': A game to get to know your colleagues better
They say that work is like a second home and your colleagues are like a second family. Bonding in moments of relaxation at work strengthens the team, and that's exactly what we achieve with our team building based on the famous board game "Who's Who".
This fun game will help you to put faces to those colleagues who are in other headquarters, who telework or with whom you cross mails daily but have not coincided too much. The 'Who's Who' team building game will allow you to get to know each other better and have a great time. To start with, we ask participants to answer a short form that we will send you a few days before the event. In this online questionnaire, they will find questions with closed answers (yes/no) and we will also ask them to tell us five to ten curiosities about themselves (not physical) but anecdotal or characteristic.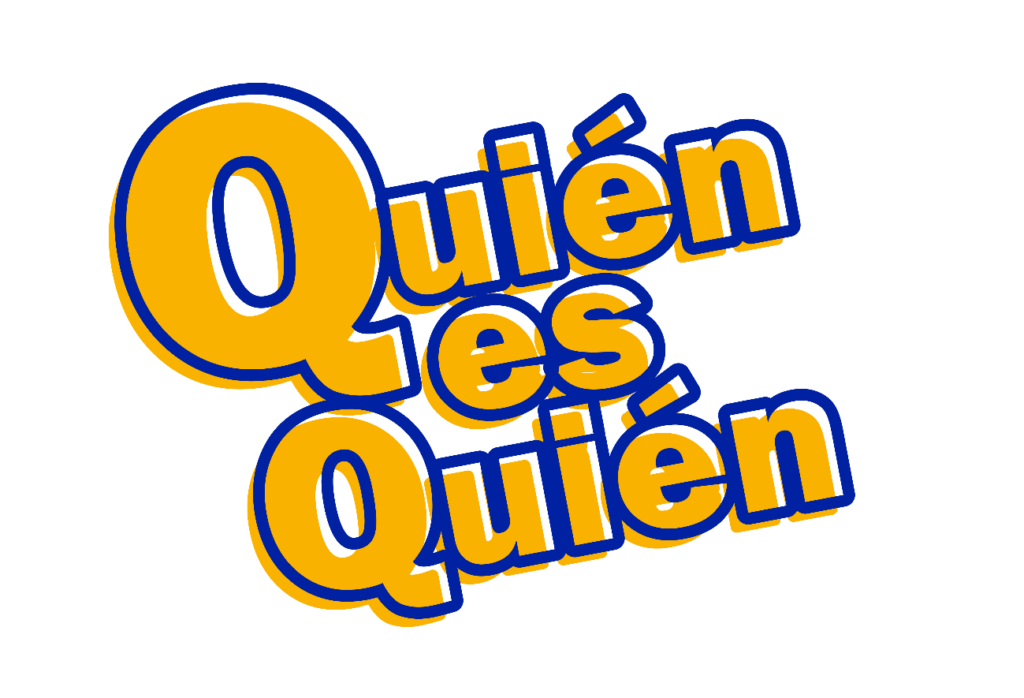 How does the Furious Koalas 'Who's Who' Game play out?
The game starts with all attendees scanning a personalised QR code that we will provide them with at the start of the event. This code will take them to a special web browser designed for your team building, where they can participate without the need to download or install any application. Our system will automatically recognise each participant, as they will already be loaded in our database. From there, the fun begins.
Discover your colleagues with the 'Who's Who' team building game
On their mobile browser interface, players will be able to see pictures of all their colleagues along with their names, allowing them to browse through the list of participants. They will also see a series of questions that they can select to guess who the 'mystery employee' is. This interface will be customised and designed specifically for your company, giving players a unique and engaging experience.
The questions available for selection are binary (yes/no), which will help to rule out possible choices. The list of candidates will be updated as the players eliminate options, ensuring that the excitement and competition is maintained. This functionality is based on usability analysis and user experience, ensuring a fun dynamic.
The game is run by a facilitator using his or her Tablet with a different interface than the participants. In this interface, the facilitator can see the picture of the "mystery employee" of each round, additional information about him/her and his/her curiosities. These curiosities become clues that the facilitator can provide to the participants, helping them to get to know their mystery partner better and adding a touch of fun to the game.
How does 'Who's Who' team building work?
The room where the team building takes place should have a screen or projection system where the hidden silhouette of the 'mystery employee' will be displayed for the audience to discover. A ranking of the employees who are closest to discovering the mystery employee will also be displayed on the screen, as well as other relevant information to keep everyone informed and excited.
A countdown game will be played. Participants will have to guess who the 'mystery employee' of their company is in the shortest possible time. They will do so by choosing from the questions asked on their mobile screen. In each round, all contestants will be given a certain amount of time to choose the question they want (from the list available on their mobile). They will be given 10 seconds to choose the question, after which the system will synchronously cross off their screen the profiles that would answer 'NO' to that question, leaving a list with less and less. This way you will see who has discarded the most profiles in each round, making up the ranking (it can be shown as a percentage or as the number of profiles that remain 'active').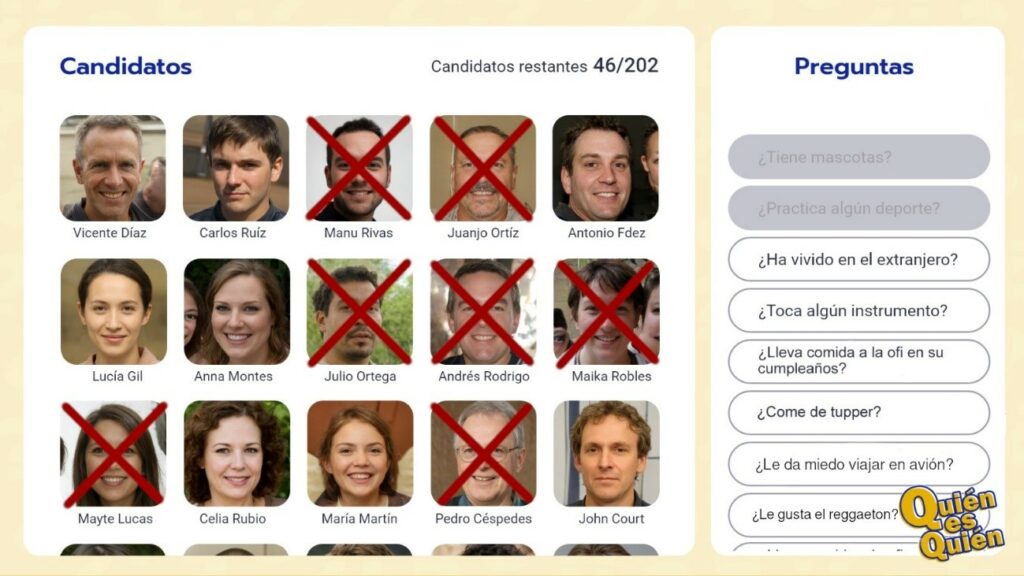 The game presenter also adds to the fun and excitement by giving clues about the 'mystery employee'. These clues can be anecdotes or curiosities that are sure to generate laughter and strengthen the bond between participants.
The number of rounds and playing time are flexible and can be adapted according to the energy of the room or the scheduled agenda.
A Unique Team Building Experience
Recreating well-known contests and games such as the ones described is one of the best ways to enjoy a unique experience and guarantee the success of your event. Our experiences are memorable, and the facilitator can keep the audience engaged and competitive throughout the game.
Our team building approach not only strengthens the bonds between team members, but also communicates your company's goals, messages and spirit in an entertaining way.
Team building for Christmas, conventions and large groups not only exists, but Furious Koalas makes it happen. Our combination of technology, gamification and TV game show re-enactment offers a unique and fun experience for your team. If you are planning an event and are looking for an interactive solution, don't hesitate to contact us. We will customise the production to offer you the best solution that suits your needs and will make your event unforgettable. Get ready for a fun-filled Christmas and team building that will strengthen the bonds of your team in an original and surprising way for everyone!