The team at FK Interactive is proud to receive the 'Young Company of the Year Award' at the 'Impulso a las Telecomunicaciones Awards'.
Impulse to Telecommunications Awards
On 7 June, at the Hotel Palacio Buenavista in Toledo, the Itaca association and the Castilla-La Mancha branch of the Official College of Telecommunications Technical Engineers presented FK Interactive, a spin-off of the UCLM, with the 'Young Company of the Year Award'. The award recognises the work carried out in the region in the field of telecommunications "in strategic areas such as Artificial Intelligence, Virtual Reality and Augmented Reality", according to the organisers of the award.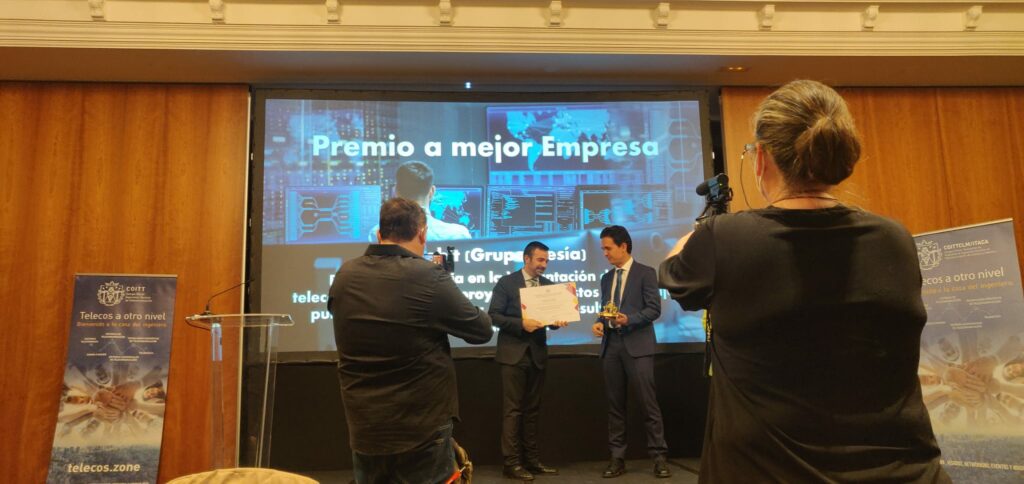 "We consider your organisation to be a benchmark for the tech startup ecosystem in Castilla-La Mancha, and that's why we have decided to give your company an award that is very important to us, since we have always had among our values and principles a commitment to the talent and innovation of young companies in our region's business fabric," said the institutions that awarded the prize.
This award recognises the business trajectory of Furious Koalas, "in a period as difficult for everyone as this one has been, in which we believe that we must value the work of those companies that promote research, development and innovation in disruptive information and communications technologies", they emphasised.
FK Interactive
Furious Koalas is a company that provides high quality services in the areas of virtual and augmented reality, event dynamization, technological development in health, interactive video, gamification, mobile applications and Full Stack development.
With more than 15 years of experience within the research groups Oreto and Artificial Intelligence and Representation, belonging to the University of Castilla-La Mancha, Furious Koalas S.L. offers professional results in the context of design, development and deployment of interactive solutions. Our main objective is to deploy cost and quality effective and scalable solutions for our clients. We have the capacity to develop rapid prototypes, innovative and recognised R&D&I projects, interactive technologies and multimedia resources.
Among the most outstanding projects is the first 5G pilot project, to be implemented in Castilla-La Mancha, launched through RED.ES, integrated in the Ministry of Economic Affairs and Digital Transformation and included in the call "Proyectos Piloto Red 5G", and the Cojali Challenge project, winner of the Open Innovation CLM, both in the field of mixed reality.
If you want to know all our services and projects click here.