Dynamising events and exhibitions has become more and more of a challenge in a society that lives in the digital age and is no longer passive and participatory. With a production of interactive quiz games in a TV format, the success of your participation is guaranteed. We tell you about it.
---
New technologies, the extensive use of mobile phones, apps and social networks manage to absorb most of our attention and free time. Even when we are enjoying a moment of leisure, we tend to keep our heads bent towards our mobile phones, missing out on the great details and situations that are happening around us. It is becoming increasingly difficult to capture our attention and surprise us.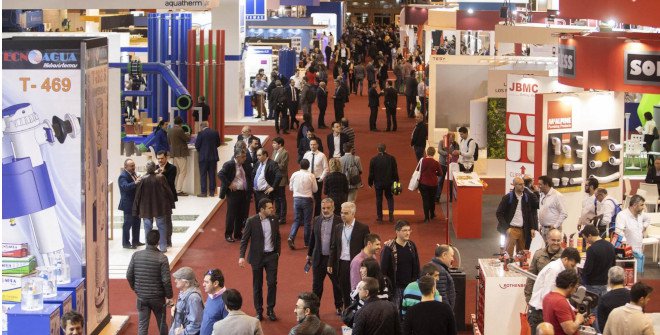 That's why conventional stands at events and exhibitions don't attract as many visitors and excitement as they used to. If your marketing strategies include giving away merchandising items (whether pens, mugs, bags, etc.), hopefully attendees will share a photo on their social networks and the experience will have ended there, as well as the memory.
People live for moments, we need experiences that generate emotions to connect with a person or a brand and remember them. Without different and engaging experiences there will be no connection and you will be forgotten in seconds. This is what is known as experiential marketing or emotional marketing, which we have already talked about here.
In this context, and in the digital age, in which interactive content consumption stands out, your next participations in events and exhibitions must evolve to ensure a high impact among your attendees. But how?
Interactive games with live and online audience participation
Today we are going to talk about interactive quiz games based on gamification and how they can help you depending on the type of event and the objectives you want to achieve.  These are contests with a television format that increase the motivation and involvement of the participants by creating emotions, sensations and experiences that they will relate to the event, company name or brand for a long period of time. There are a multitude of customisable offers according to your interests or tastes that you can apply to this type of activity that will make your events more dynamic: Quiz type contests, question and answer contests with the use of jokers; Pasapalabra; Boom!, etc. You will be familiar with them because of their great prominence in the television schedule and because they are formats with a long international trajectory, broadcast mainly in prime time, preceding the news programmes.  
Use of mobile applications to participate in streaming
The client can benefit from a customised mobile application development service specifically for the event contracted. In this way you will achieve greater participation and interaction, offering the audience of the event, or other users who are anywhere in the world with internet access, the option to participate in streaming from their mobile phone at the same time as the contestants do on stage through the digital buttons and screens where the scores of each participant or team are projected. This combination is what we recommend to make your event a success and fully exploit all the possibilities of interaction.
An extra point to take into account in the parallel use of mobile applications is that they can be used after the event. They can be used as a communication channel to which messages, offers, notifications, etc. can be sent. All leads collected during registration can be used by the client for their campaigns or email marketing strategies.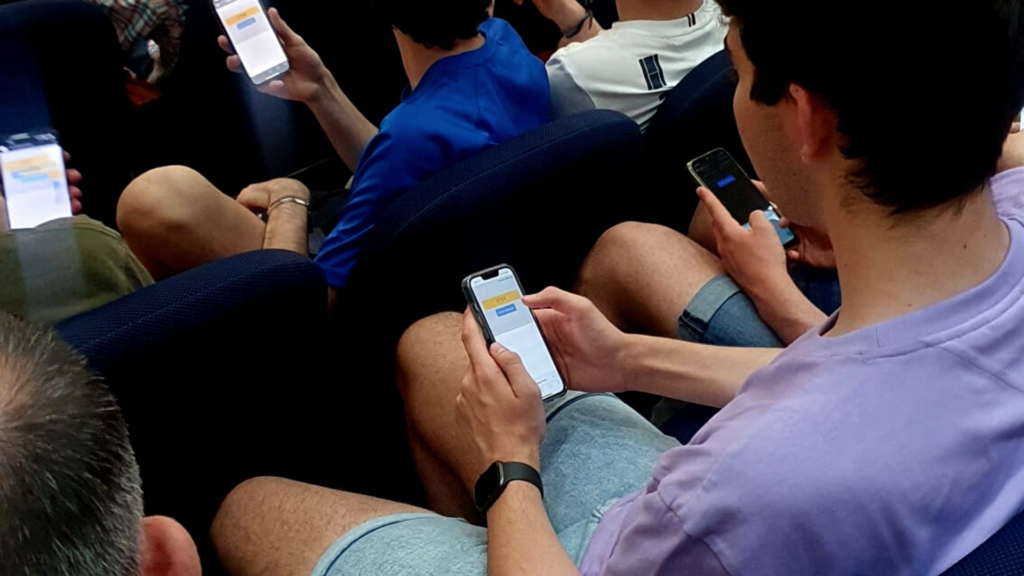 The use of clickers or remote controls for events and exhibitions
If you are only interested in the option of participating on-site and do not want attendees to do so from their smartphones or online, they could do so using clickers.
Clickers are stand-alone devices that work without an internet connection, as they do not need one. These voting remotes are configured by our engineers so that their use is recorded and encoded at the same time as the live contest.
The use of clickers ensures transparency in voting and immediacy when receiving the answers to the questions posed by the event's dynamiser/presenter and those displayed on screen.
Operation of remote controls or clickers:
This type of system provides the different data collected from each participant so that detailed statistics of their interaction can be provided. In this way we will have a precise analysis of the evolution of the event and we can know in detail the score of each participant to know who is at the top of the ranking, with the possibility of displaying this data publicly and increase the excitement of the competition among the participants, both individually and collectively. The use of controllers and mobile applications will allow the public to participate individually, but also in teams.
What to consider when organising a corporate event
We know as corporate events all those that are organised to give visibility and improve the reputation of a company or brand, whether at exhibitions, congresses, seminars, forums or fairs. They can be held in person or even in streaming, an option that has grown since the pandemic caused by Covid and a feasible option, as well as recommended if you opt for an interactive activity such as FK's 'Contests with television format'.
Objectives of the dynamisation of corporate events as a marketing strategy:
Your company may have different types of interests when organising an event, if they are not yet clear, it is important to set them and focus on a strategy to meet them. We can find ourselves with different objectives:
Enhance and visualise the brand: increasing its notoriety.
To build attendee loyalty: attracting new customers or business partners, as well as investors. To network and improve personal relations with the sector.
Promote a specific product or service, thus improving sales.
Surprise the audience with an original experience and participatory value.
Get more traffic to our event's website.
Obtain quality leads for future marketing campaigns.
We must not forget that the time an event lasts is limited and the budget invested in it is usually high, so it is in our interest to get the most out of it. For this reason, we must opt for an activity that maximises resources, using them as a great communication tool to generate effective feedback among attendees.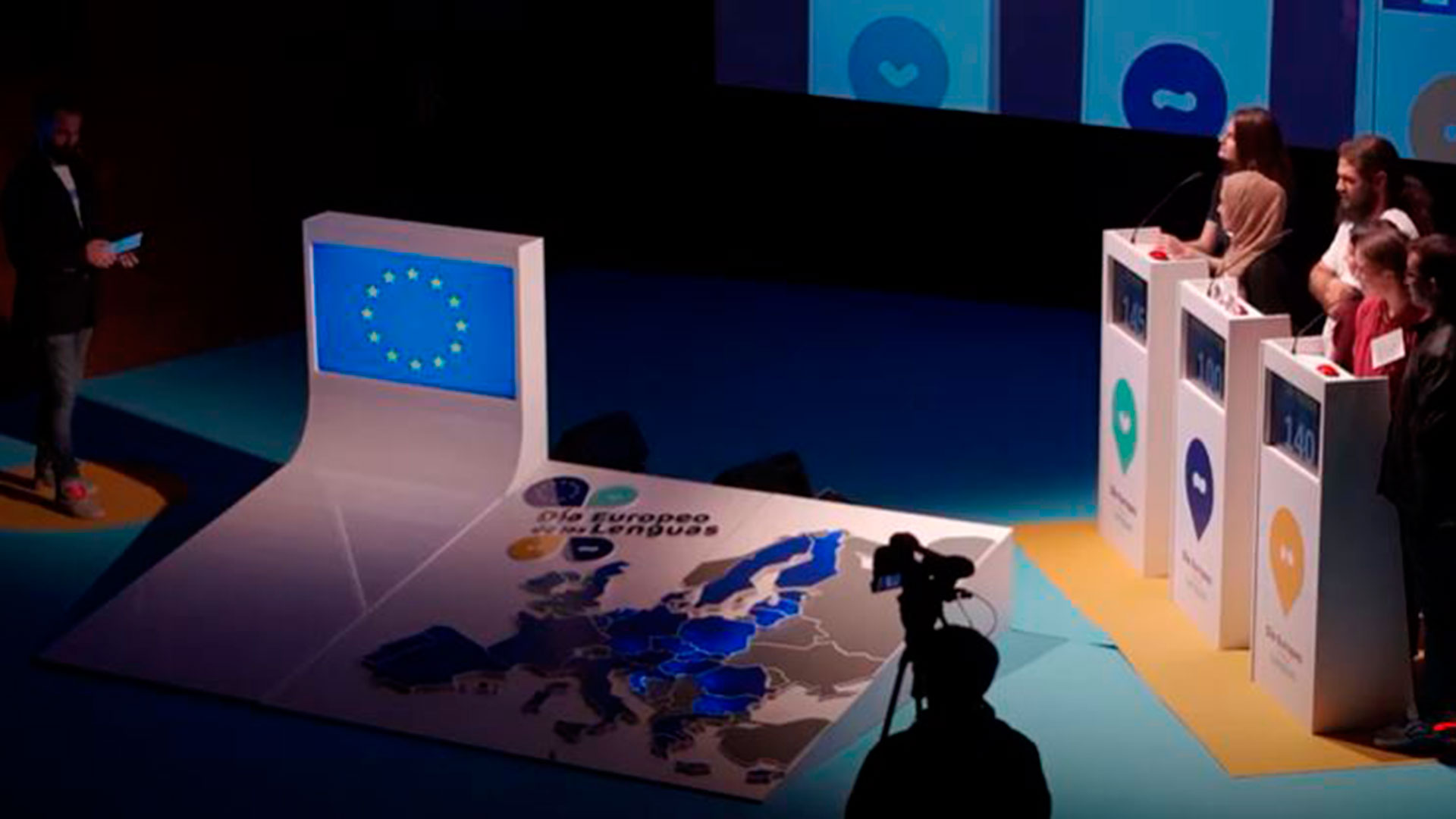 Live and online streaming of events
The creation of live and online contests are the perfect hook to attract the attention of attendees. The production of 'TV-format quizzes' by the FK Interactive team is done with attention to detail. Professionals with years of experience are in charge of the image, the sound, the evolution of the contest and its presentation. We respect the client's visual identity and our team of designers work hand in hand to achieve a visual impact that exceeds the expectations of the event.
The success of this event depends on creating a unique experience among the attendees and leaving a mark that will remain in their memory, giving great visibility to our company or brand, increasing notoriety, achieving personal or direct communication or creating a community of users and/or professionals. Even the strategy for participating in the event could be to register through an application, obtaining leads for our brand.
Interactive Family Day and Team Building activities for companies
Family Days have been gaining ground among the strategies that more and more Spanish companies are adopting for their employees and their families. A tradition that is more than established in international companies that offer their employees to spend a day carrying out an activity with their families with the main objective of increasing the feeling of belonging to the company.
Other companies simply want to bring their employees together on special dates to strengthen ties, release stress and build a team, for which they usually hire activities called Team Building. They are mainly looking for collaborative activities that involve the whole public, in this case the company's staff, in a generic way.
In the case of 'quizzes with a TV format', companies could make teams by departments or play individually through mobile devices or clickers according to the indications of our dynamisers and digital screens.
How well do you know your colleagues and your company? The customisation of the questions and the game format are freely chosen by the client. All you have to do is propose an idea and we will make it a reality.
Objectives of team building activities:   
 

Improve employees' image of the company
Increase the sense of membership and engagement with the organisation.
Enrich the work environment: we work on teamwork and communication.
Relieve stress: we offer a fun and original activity.
Encourage creativity and healthy and productive competitiveness.
Interactive quiz games with Furious Koalas
This is how we work to make your participation in exhibitions or events a success thanks to interactive quiz games in TV format: 
 We have a first contact with our client in a video call to get to know each other, listen and understand what the main need of the company is, the key point for the success of the contest, where and when the event will be held.

We will present a briefing and a proposal according to the interests raised where we will also address the deadlines, platforms and features.

If you are interested in the solution we propose and the budget, we will continue working on the design of the stand, the lecterns, the overall image of the contest, the app and especially on the game mechanics chosen by the client.

Development: This is the moment when our developers integrate all the assets to guarantee a unique experience that meets all the client's needs while following a central logic, following a correct database configuration and aesthetically becoming a visual success.

Process: During the development process of the application, we are in contact with our client to show the evolution of the project and receive feedback on various relevant decisions. Although our services are tailor-made for each client, we start from prototypes created by us, which significantly speeds up the pace of work and reduces delivery times.

The day before the event, our team will take care of the set-up, production of the contest, sounds, lights and control.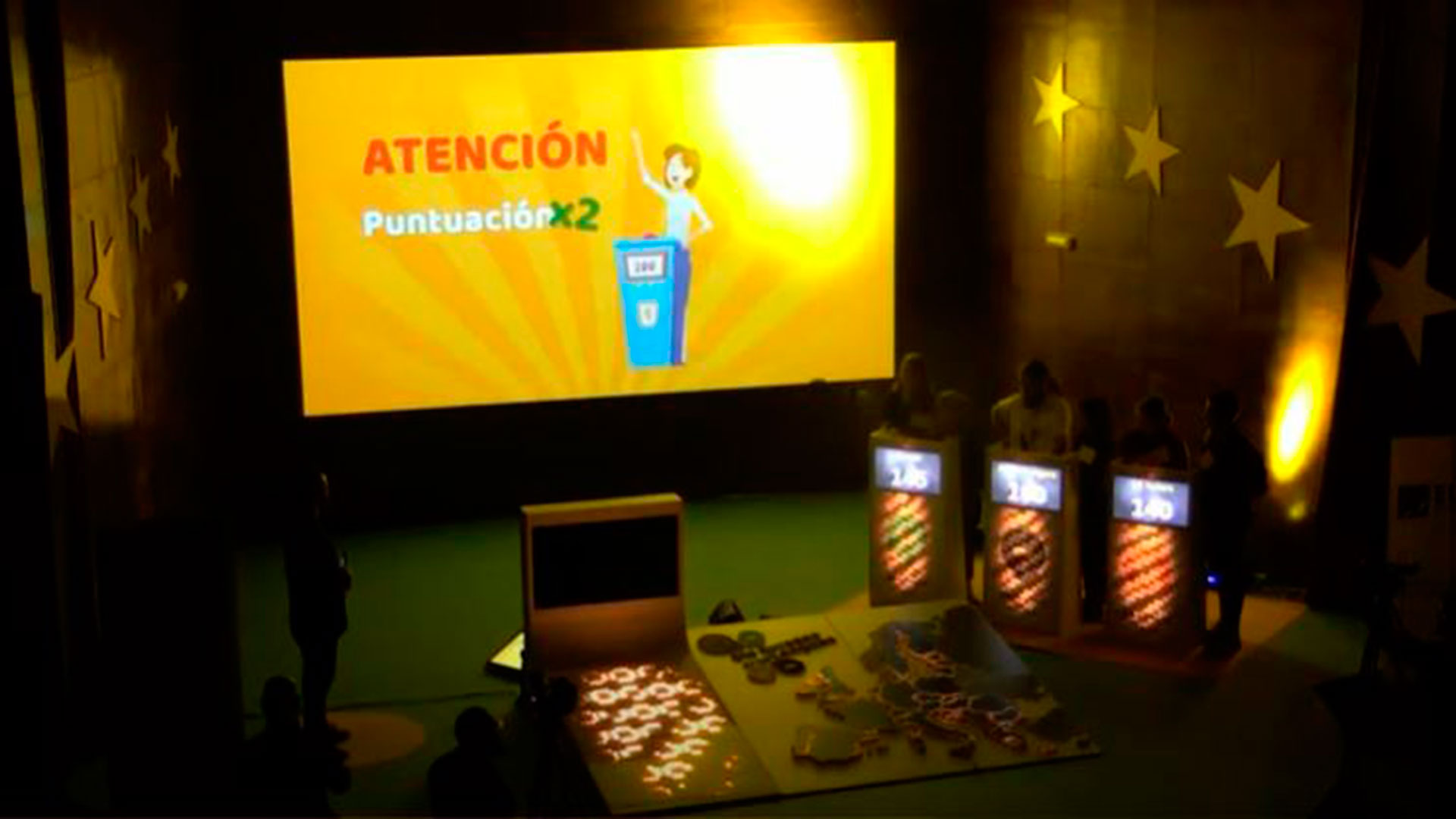 If you are thinking of organising an event and you need an interactive solution, tell us about it, and we will customise the whole production and offer you the best solution for you.
Contact us by clicking here.